Disclaimer : This is a long post, I know. Grab a sit and a cup of whatever and take your time. And yes, there is going to be a French version. Don't worry.
They say that you should never meet your heroes and the main reason is that when you do, you end up looking like an idiot on the pictures you've taken with them.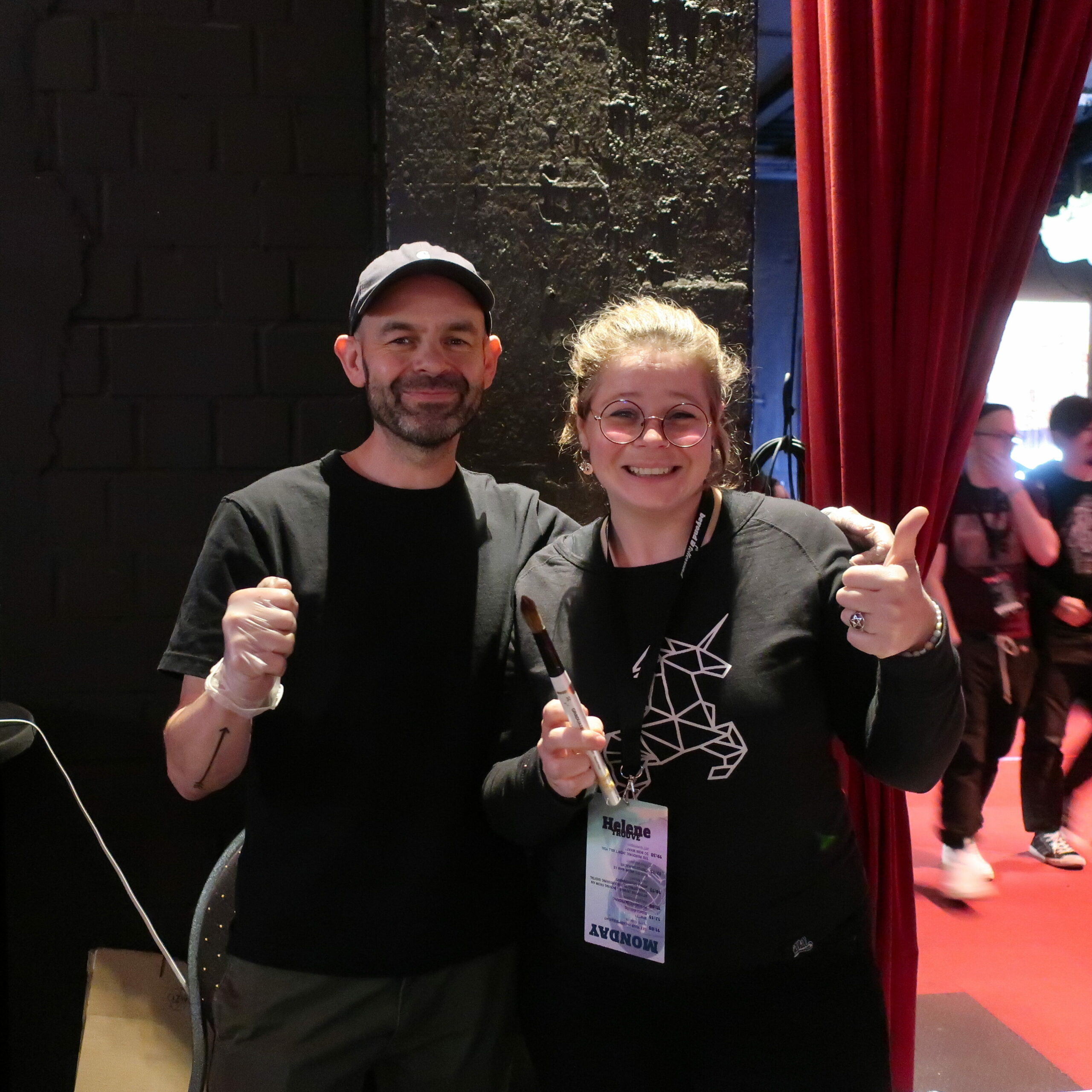 But at least you have the pictures to remind you of this moment and you're glad that you took them, actually.
They say that you should never meet your heroes, but sometimes, they turn out being amazing people and having the opportunity to talk to them is one more blessing to an already blissful moment. This is what happened when I finally got the courage to talk to Rob Draper, one of my inspirations in life and art and everything, and, pretty much the man who gave me the strength to realize that I was allowed to be a writer and that I actually didn't need any permission from anyone to do so.
I am going to try to tell you the story of this moment, which lasted no more than five minutes, but I fear that words won't be able to translate the joy and gratefulness I felt at the moment and that I still feel now. Even as I try to write it right now, I am not sure I'll be able to tell the story as I would want to but, hey, I still have to start somewhere, right ?
Oh, and before we go, I am writing this in English because I am still stuck in what I now call « WTF language », the mix of languages that we spoke for three days with my friends during the event we attended in Düsseldorf where this all took place, and that I am going to tell you about in a couple of seconds1 and also, because I want to reach a wider audience with this text. Finally, if he ever reads me someday, I want to make sure that Rob Draper will be able to understand what I say about him in a more « thoughtful » and organized way than when we actually talked !
So, here we go, here we are.
Düsseldorf, November 2021, Beyond Tellerrand conference.
This is the second time I am attending this event. The first time was 2019, when I was still working for an IT company as a marketing and communication project manager. One of my tasks in the company, because I was given anything related to « communication », « information » or « skills development », was to find events that would help our developers broaden their minds, expand their creativity and/or learn new practices to implement for our clients.
My friend Emily, who had been teaching web development in Belgium at the time, had been talking about her experience with this event the year before, on and on for months. She seemed amazed, inspired, transformed and I needed to know why. So, à mon tour, I berated my boss relentlessly to go in Germany and attend the event, arguing that it would be very useful for our devs, and even pushing two of them to join me on the trip. We went and I was blown away by so many talks but one actually stood out in my memory, and it was Rob's.
I was definitely in the target audience for his talk : I love street art and graffiti (the guy is an overly talented designer and hand lettering artist), I am a sucker for a good success-story (success being, to me, doing what you love and having the best time of your life), I was addicted to motivational speeches (and I still am in a way, but I chose my speakers more wisely), « from zero to hero » stories and speeches that could tell me that if they had done it, I could do it as well. I was a « closeted artist » at the time, dying to tell everyone on earth that I had been writing a book for more than two years but being frozen by fear of : judgment, failure, comparison, being rejected, being made fun of, people seeing that I was an impostor and that I had no talent… the list is non-exhaustive, obviously. You know the drill of self-depreciation and lack of confidence. I fed on stories of people who could show me how it's done, but I was too scared to do anything about my situation. Fear induced paralysis. Self-sabotage bullshit.
The description of his talk in the booklet read :

Rob is an artist and designer based in the UK who specialises in hand lettering and creativity. Rob has worked with a range of worldwide clients including The Golden Globes, Levi's, Samsung, Gap, Nike, Penguin Random House, Bartle Bogle & Hegarty, Pentagram, Harper & Collins, WWF & The Washington Post. He has had work featured in worldwide press from IdN International Designers Network, Design Taxi and numerous lettering/design/creativity publications to The Daily Mail and now also travels to speak on his 'journey' and how an unexpected series of events created the role he is in today.
I was intrigued and really looking forward to hearing what happened to him and how he turned it all up. I was at a special point in my life. I was lost, confused, I felt trapped in my career, angry at myself for not being talented enough, for not trying hard enough and I saw no way out. I didn't know it a the time but I was already in a deep spiral of depression.
Anyway, I was all ears when Rob hoped up on stage.
Rob Draper began his talk about how he is at the meeting-point between design, creativity and art. He showed us some videos of his works, telling us how he used social media to spread the word about his art. And then, he told his story, how he had always loved hand lettering, how he had always wanted to do something in relation with his passion with graffiti and art, his successes and most importantly his failures. How he tried, and failed, and tried and failed again. How he kept on going even we he was almost homeless, how he had to crash his sister's couch for months because he had nowhere else to go… and how through all this shit, he kept on trying and drawing and spending days in his local coffee shop drawing with a ball pen on carton cups just because he only wanted to do THIS. Just because he couldn't do anything else, just because he wouldn't do anything else. And so he did what he had to do : he continued and never gave up. His perseverance and his dedication to his art finally paid off and he began to work with prestigious brands. It took time, it took blood, sweat and tears, but he finally made it. He was a thriving artist (he still is) and he was going all over the world to tell people what it took : hard work, relentless dreams and wifi 2.
When his talk ended, I was in tears. Not only was his story moving but it resonated deep within me and it actually sparked something in my heart. It has lit a light, a teeny-tiny flame of bravery that made me confess, on the spot, to the co-workers I was with, that I had been writing a book. A literary coming out, if you want. And just by telling these people that I was « doing » something, it was a huge step for me. I felt proud and relieved and like a veil had been lifted off of me.
I wanted to be writer and that's it. I couldn't ear it at the time, I was not ready to accept it at the time, but now I know that this was what it was all about. I was in the wrong place, I was working the wrong job, I was hiding my true self for the sake of I don't know what kind of bullshit about myself I'd been coming to believe years after years. That I needed to be this woman, that I needed to do this job, that I had to follow this path and not that one, that being a writer was not for me, that writing had to be only a hobby because I was not talented enough, that I wouldn't make it if I tried anyway…
But after Rob's talk, something had changed.
The rest is history (almost) : a few weeks after the event, I had a nervous breakdown, I was on medical leave for months and ended up leaving my job. Then, I finished writing my first book, then I wrote a second one and self-publish them both because why the fuck not, I am a writer, I can do what I want and I want this ! It was not that easy, it was not that fast, hell, it is not even over yet but the spark had done its job and lit a never-ending burning candle of hope, perseverance and courage to be who I really am.
And that leads us back to Düsseldorf, 2021, again. (I told you, it was a long story).
Getting to the point
So this is my second time here. I am meeting with my friend Emily for the first time IRL, after not being able to hug each other for SEVEN FUCKING YEARS (yes I am yelling), I am abroad for the first time since you-know-what happened to the world and we are going to attend an event that we love deeply, organized by an amazing human being Marc Thiele, where we will hear inspiring people sharing their stories and their works with us.
To say that we are excited is an understatement.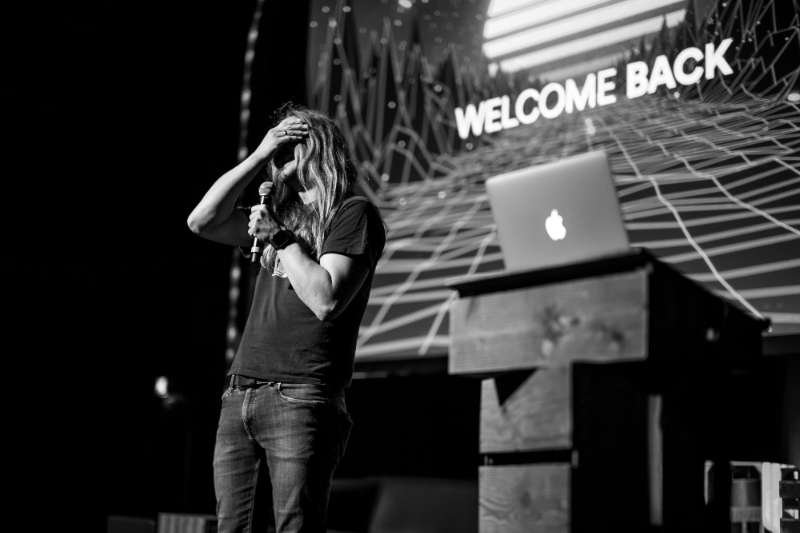 But there is something else. This year, Rob Draper is going to be here to design hand-lettered paintings live, in what he calls « Your words, my hands ». The concept is clear : you give him one sentence, and he hand-letters it for you in gold or silver paint on a black A2 piece of paper. All the money paid for the artwork goes to an organization, Makuyuini Cologne, a non-profit that aims to help kids in Tanzania access education and Skate Aid, another organization that builds skate parks all around the world to help kids out of the streets. In addition to being an opportunity to support two organizations who have done a great job already and for which I want to add my little contribution, I can get a signed original personalized artwork made by an artist I love ? I cannot miss this one !
After all the talks, on the first day of the conference I think, and during the evening get together at the theatre, I was discussing with Emily and her friends the fact that I wanted to purchase a personalized artwork but didn't know what sentence I wanted. I couldn't for the love of me find the right one. The one that would mean everything. The one that would encapsulate the importance of this moment, of this event, of this guy. And then, Daniel, Emily's boyfriend had THE stroke of genius. He said :
« Why don't you have him write the title of your book ? »
That was it. This was the greatest idea ever because this book, Au fond du trou, I wrote it after the breakdown, the breakdown that happened after the first event because I wasn't living the life I wanted to deep inside of me. I decided to wrote this book to share the story of my depression but also, of how writing helped me out of it. How I finally understood what I wanted to do and how I decided to pursue this dream, no matter what. Because I never forgot the words of Rob Draper 3.
This book happened because of Rob's talk, because of what it instigated in me. It was the perfect quote to have this precise artist write. A full circle. Une boucle bouclée.
I feared I didn't have enough money to buy myself a poster but after a few moments of discussion with the guy from Makuyuni (Andreas, you're the best), I understood that I could give any amount of money I wanted, even the lowest, which is incredibly generous from the organizations. So I gave what I had and I promised Andreas I would help Makuyuni in any other way I can (and I will).
When I « ordered » my quote, I was already very emotional. Andreas and Rob asked me what it meant and why it made me so emotional. So I quickly explained that it was the title of my book and I added, « it's a long story, I'll tell you when you have more time on your plate » because I didn't want to bother them. A few hours later, when I came back to Rob to ask if my poster was ready, the guy was eager to know why it was so important to me. And for the next five to ten minutes, he actually stopped what he was doing to listen to me and talk with me about my story and my books and my projects.
He was genuinely nice and told me so many encouraging things. I was overwhelmed, so I had trouble finding my words and explaining myself but I found the way to tell him that what he said had such an impact on my life and that this book is the testimony of this impact. He encouraged me to continue, to keep on keeping on, to definitely stop comparing myself because everyone starts at the bottom, telling me that when in doubts, I should remember that he also did shitty stuff when he began but that it was all part of the process, that he was so happy to meet someone on whom his talk had a real impact… I don't remember every word of this conversation but I will forever keep a general feeling of joy, happiness and gratitude, for sure. What I also do remember is that, for a few minutes, it was just me and this artist I admire, both of us just talking art and creation and process and believing and perseverance, the whole place buzzing around us and us, sharing a moment and a hug because I am a hugger and fuck it, this is my love language !
Would you believe me if I told you that I still feel emotional when I recall this conversation ? That I am actually crying as I write this ?
I don't want you to think of me as a twisted fan who met her idol and can't get over it. It is not what happened here. I just had the chance to explain to someone how what they did and what they said helped me and thank them for that. Maybe I don't know the « real » Rob Draper and maybe he is the same as the one I met or maybe not, whatever. I just know that Rop Draper, the artist who was at Beyond Tellerrand in 2019 and 2021 was kind and generous enough to give me a few minutes of his time and share some wisdom. And that it was the highlight of an already wonderful time at the conference for me.
They say that you should never meet your heroes and that's because you will definitely end up looking like an idiot on the pictures but, now I have something more than the pictures to remind me of this moment. I have a huge golden hand-lettered poster of the title of my book made by an artist I love.
They say that you should never meet your heroes, but I did meet one of mine and I can tell you this : if you have a chance to, go and meet them. You don't know, maybe you'll live a moment of pure sharing that will nourish your heart for a long time 4. Tell them what their art did for you. What their work means for you. And don't be afraid of your story being silly or unimportant. Every little positive impact an artist can have in real life is worth telling them. It will feel good for you and it will feel good for them too. I promise.
Thank you again and again Rob. Thank you also Marc Thiele and Beyond Tellerrand for allowing this moment to happen.
I really hope to see you both again someday.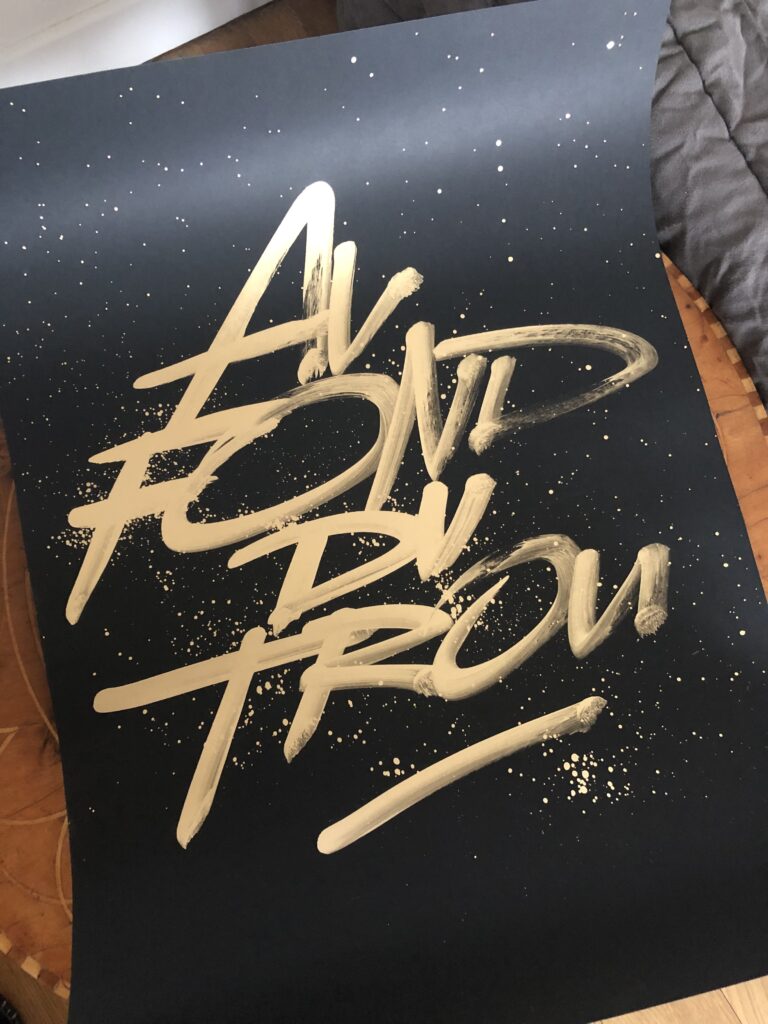 ---
Links I'd like you to check :
---
Notes :
1 : The mix was composed of French, English, German and whatever came up to our minds when we were talking, so a little bit of Italian, Spanish, Dutch and also Greek. Yup, WTF Language at its finest.
2 : This was the actual title of his talk.
3 : There is even a passage in the book where I talk about Beyond Tellerrand and Rob's talk.
4 : And if, in the end, they're assholes, at least, realize that you are the hero here, becoming you while admiring someone nasty and how you didn't end-up the villain of the story.
Edit :
20/11/21 : Link to Beyond Tellerrand's wrap up post + photo of Marc entering the stage by Florian Ziegler.